Shrimp, arugula and goat cheese rotini. This shrimp and arugula rotini is made with Ready Pasta for the perfect quick and easy weeknight dinner for two. Tear corner of Ready Pasta pouch to vent. Heat in the microwave for one minute, then combine with the shrimp and top with cheese.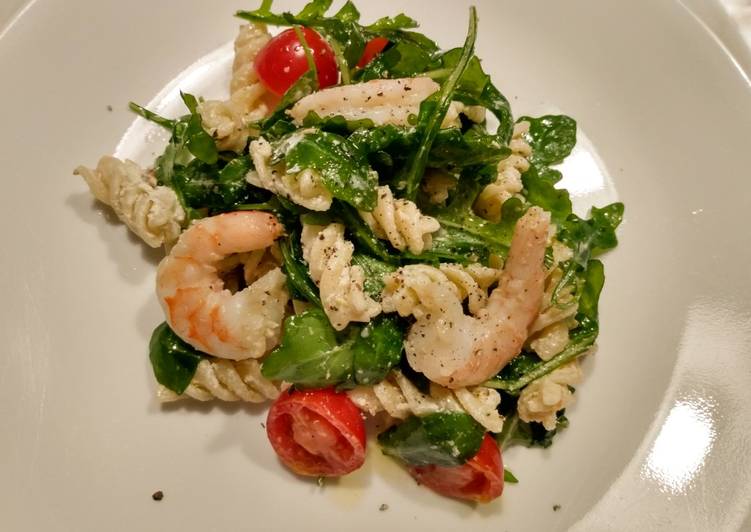 Lay out the toast slices and spread them with the goat cheese. In a medium saucepan, bring the stock to a simmer. Ingredients. whole wheat pasta (rotini, penne, bow tie, or any other small noodles), about half a box. arugula- about three handfulls, rinsed and chopped into bite-sized pieces. You can cook Shrimp, arugula and goat cheese rotini using 10 ingredients and 5 steps. Here is how you achieve that.
Ingredients of Shrimp, arugula and goat cheese rotini
Prepare of dry rotini.
It's of garlic, finely chopped.
It's of extra virgin olive oil.
Prepare of large lemon, juiced and its rind finely grated.
You need of garlic, unpeeled.
Prepare of fresh rosemary.
You need of easy-peel shrimp, 31/40 size.
Prepare of goat cheese.
You need of (packed) arugula.
Prepare of cherry tomatoes, halved.
A garlicky goat cheese sauce turns shrimp and whole grain pasta into a mealtime treat! This pasta recipe uses whole grain pasta. Spicy Red Pepper, Goat Cheese, Olive, and Arugula Pizza. Add the tomatoes to the frying pan and, holding the pan handle, roll the tomatoes around by jerking the pan.
Shrimp, arugula and goat cheese rotini step by step
Add the pasta to a pot of boiling salted water..
Add a pinch of course salt to the garlic and crush it until it's paste, using the flat of your knife against a cutting board. Put the garlic in a large mixing bowl along with the olive oil and a pinch of salt and several grinds of freshly cracked black pepper. Add the lemon juice and rind..
Add a large splash of extra virgin olive oil to a medium pan. Press down with your palm on the unpeeled garlic cloves to crush them slightly, then add them to the pan along with the rosemary sprig. Let the oil infuse for 3 or 4 minutes, then fish out and discard the garlic and rosemary..
Add the shrimp to the pan and season with salt and pepper. Cook the shrimp until they just begin to turn evenly pink. This will only take a few minutes. Remove the shrimp and peel off their shells. Keep the oil from the pan..
Drain the rotini once it's cooked and add it to the mixing bowl of oil and garlic. Break up the goat cheese and add it also. Toss while the pasta is hot so the cheese can melt. Add the shrimp and its cooking oil as well as the arugula and tomatoes. Toss again, until the arugula wilts. Season with extra salt and pepper to taste..
It's a light and creamy goat cheese coated pasta with shrimp, sautéed tomatoes and some broccoli that gets thrown into the food processor so its like a broccoli pesto. That Grey's was incredible and I could not go to sleep afterwards. Make the Spicy Shrimp: Place the shrimp in a large zip-top plastic bag. In a small bowl, stir the paprika with the garlic powder and cayenne to combine. Stir in the goat cheese and season with salt and pepper.