Lemon-Garlic Mushroom Crab Penne Pasta. Initially, I bought the imitation crab meat to make california maki then realized I didn't have the seaweed wrapper for the sushi. It was already thawed out and I didn't want to put it back in the fridge/freezer so I decided to make pasta..on Yummly Lemon Penne Pasta, Penne Pasta With Chipotle, Mezze Penne Pasta In A Pecorino Sauce.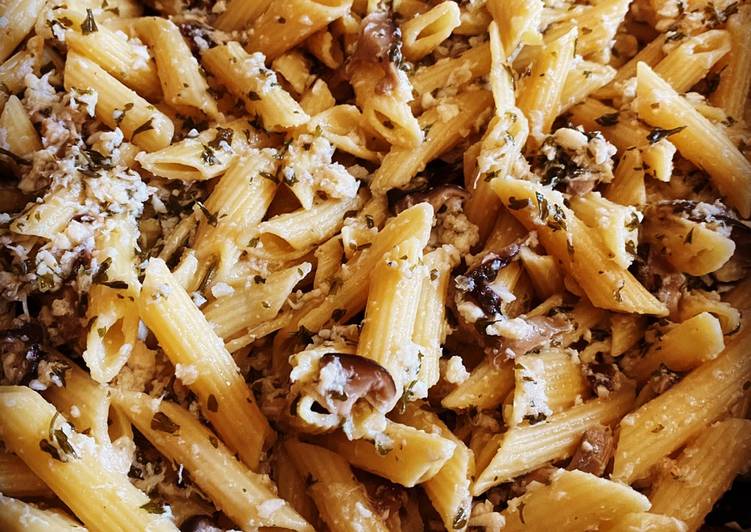 I found mushrooms, asparagus, crab, lemons, shallots, Parmesan and garlic. I thought all of those ingredients would be tasty together and I was right. While the pasta is cooking, heat the olive oil in a skillet over medium heat. You can have Lemon-Garlic Mushroom Crab Penne Pasta using 10 ingredients and 3 steps. Here is how you achieve that.
Ingredients of Lemon-Garlic Mushroom Crab Penne Pasta
Prepare 2 cups of uncooked penne pasta.
You need 6 of garlic cloves minced.
It's 1/4 cup of mushrooms.
It's 1/4 cup of butter, cubed.
You need 2 TBS of extra virgin olive oil.
It's 14 1/2 oz of chicken broth.
You need 12 oz of lump crabmeat, drained.
You need 3 tbsp of lemon juice.
It's 1/4 cup of minced fresh parsley.
You need of Lemon wedges (garnishment).
This is a delicious, super quick side or main dish. I got it from the back of a pasta box and it is yummy! Prepare the creamy lemon garlic sauce, add you cooked pasta and season generously. Made with thin chicken breasts, pasta, Parmesan cheese and white wine, this Lemon Garlic Chicken Pasta recipe is one of our family's favorite meals.
Lemon-Garlic Mushroom Crab Penne Pasta instructions
Cook pasta according to package directions. Meanwhile, in a large skillet, cook and stir garlic in butter and oil over medium heat for 2 minutes or until garlic is golden (do not brown)..
Add the broth, crab and lemon juice. Bring to a boil. Reduce heat; simmer, uncovered, for 12-15 minutes or until sauce is reduced by half..
Drain pasta; toss with crab sauce and 1/4 cup parsley. Garnish with lemon wedges and remaining parsley..
Boil pasta in salted water. minutes. Add sliced mushrooms, juice from lemons, wine. In a frying pan, heat some olive oil. Cook garlic, onions, and mushrooms until soft. Add in canned tomatoes, crab meat, cream, salt, bouillon granules, and butter and cook until heated through.