Chicken Spaghetti.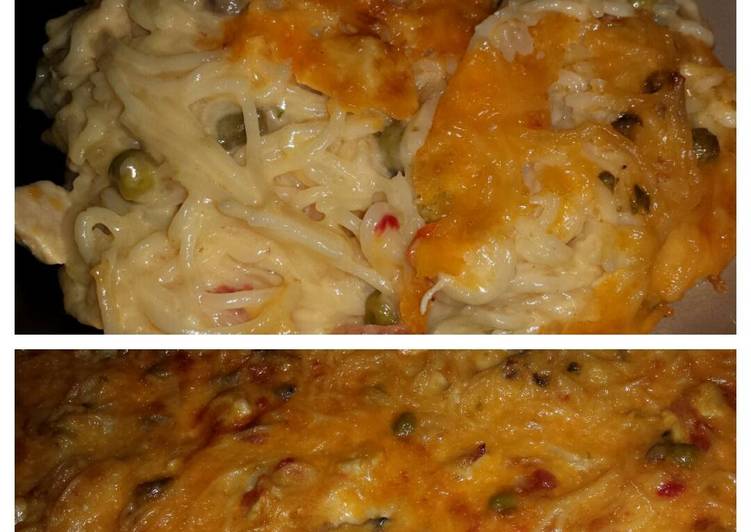 You can cook Chicken Spaghetti using 10 ingredients and 10 steps. Here is how you cook it.
Ingredients of Chicken Spaghetti
It's 4 of boneless, skinless chicken breast halves (about 1 lbs).
It's 1 lb of cooked spagetti (follow package directions).
You need 1 large of onion, diced.
It's 1 of celery stalk, finely chopped.
Prepare 1 box of Velveeta cheese block (or 3 cans cream of chicken soup).
You need 1 packages of shredded cheddar ( 2-3 cups).
Prepare 1 can of Rotel (undrained).
It's 4 oz of jar diced pimentos, drained.
Prepare 1 stick of butter.
Prepare 1 of * Optional ingredients: mushrooms, green peas, asparagus, water chestnuts, etc..
Chicken Spaghetti step by step
Place chicken in a large saucepan and add just enough water to cover (I use a 4-quart dutch oven or stock pot). Bring to boiling on medium-high heat, then reduce the heat. Cover the pan and simmer until the chicken is no longer pink (about 15-20 minutes)..
Remove chicken. When cool enough to touch, cut into bite – size pieces..
Skim/strain water in saucepan, reserving about 1 1/4 cup – 1 1/2 cup. Rinse/wipe out saucepan if necessary, and return the reserve water (now broth) to the saucepan..
Melt butter in skillet over medium-high heat. Add onion and celery. Saute until good and tender. Add to saucepan..
Add Velveeta cheese to saucepan (or, optionally, cream of chicken soup). Simmer over medium to medium-low heat until Velveeta has melted through, stirring often..
Add chicken, pimentos, Rotel, and any other optional ingredients to saucepan and stir well. I usually chop up and add a drained 6.5 oz can of mushrooms and 1 cup of drained, canned sweet peas..
Add cooked spagetti and mix well..
Pour into a 4-quart baking dish and sprinkle liberally with shredded cheese..
Bake at 350°F for 30 minutes to 1 hour, or until bubbly. Cool for 5-10 minutes and serve..
**This makes a LOT! I usually serve half for dinner and some leftovers and then freeze the other half to warm up at a later date..