PERSIAN SAFFRON, ROSE & PISTACHIO ICE CREAM. For months I've been wanting some Persian ice cream at Saffron & Rose. I finally was able to since I couldn't even wait 'til the weather get pretty hot. Saffron & Rose is located at the old Strickland's spot in the Irvine section (near UCI).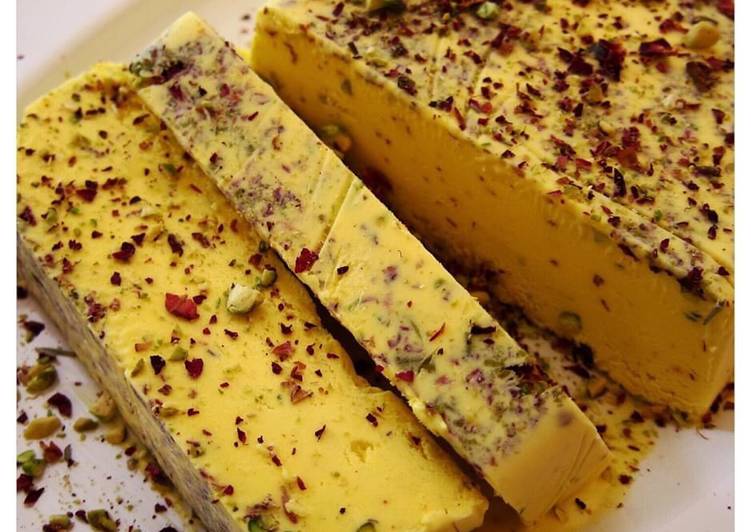 The subtle flavor of exotic saffron combined with the nutty notes of ghee makes it a perfect side to serve with chicken, fish or vegetable and meat stews. The recipe is easy to make and uses very. Even though I have significantly simplified the process, I've kept the uniquely Persian flavor combination of cardamom, rose water and saffron. You can have PERSIAN SAFFRON, ROSE & PISTACHIO ICE CREAM using 11 ingredients and 15 steps. Here is how you achieve that.
Ingredients of PERSIAN SAFFRON, ROSE & PISTACHIO ICE CREAM
It's 1/2 tsp of saffron.
You need 1 pinch of sugar.
Prepare 2 tbsp of hot water.
You need 250 ml of milk.
You need 50 gm of + 85 gm castor sugar.
It's 2 tbsp of chopped pistachios.
It's 1 tbsp of dried rose petals.
Prepare 6 of egg yolks.
It's 225 ml of double cream.
Prepare 1 tbsp of cornstarch.
It's 3 tsp of rose water.
Scale and get a printer-friendly version of the no. Ingredients for Persian Ice Cream with Saffron and Rose Water (bastani) Bastani is traditionally a custard like ice cream, rich in flavor mixed with saffron, rose water and pistachios. It is quite recognizable with it's glorious golden yellow color and aromatic from both the saffron and rose water. Pink Rose (V) Vanilla Faloodeh (V) Poppy Seed Slush (V) White Rose.
PERSIAN SAFFRON, ROSE & PISTACHIO ICE CREAM step by step
Using a mortar -pestal, grind together the saffronstrands with a pinch of of sugar.Add hot water and leave to sleep..
Toast the pistachios in a small pan over low heat fr a minute or two.Set aside to cool..
In a saucepan heat milk with 50 gm sugar until it starts to steam. Take it off the heat before it comes to boil. Set aside..
Using a balloon whisk, whisk the egg yolks along with the remaining sugar and cornstarch until pale in colour..
Slowly in a drizzle, add half of the hot milk in three batches, to the egg yolks. Whisk continuously whilst adding the hot milk to avoid curdling..
Add the tempered egg yolks to the remaining milk in a slow drizzle whilst continuously whisking the milk..
On a medium low flame, whilst whisking continuously, bring the egg milk mixture to boil and thicken to a custard consistency..
Take it off the heat and stir in in the saffron liquid along with the rose water..
Strain through a sieve into a mixing bowl to catch any curdled egg. Leave to cool at room temperature..
Whisk the cream into the custard and refrigerate to chill in the refrigerator for 30 minutes..
Spoon or pour the mixture into an ice cream maker and churn according to the manufacturer's instructions..
Add 3/3 or the pistachios and 3/4 tbsp of the rose petals halfway through the process..
Transfer to a plastic container and freeze..
When ready to serve, remove from the freezer for 5 minutes or until slightly softened..
Sprinkle with remaining pistachios and rose petals..
Almond Caramel Crunch Cookies & Cream Dark Chocolate French Espresso Green Pistachio Mint Chip Nutella Walnut Raisin Saffron & Pistachio (V) Fruit. Chocolate & Nutty Flavors Bastani (Persian Rose Water, Saffron and Pistachio Ice Cream) Recipe by Sephardi Kitchen. This was the first time I ever made custard-based ice cream, and it was delicious! The rose water and saffron go great together, without overpowering each other. A quick and easy Persian style rice with flavours of saffron and rose water, without the customary tahdeeg.