Spicy sweet potato corn chowder. Enjoy Our Deliciously Crafted Well Yes!® Sweet Potato Corn Chowder Today. Check Out Corn Chowder On eBay. Pour half of the soup in a blender or food processor; purée.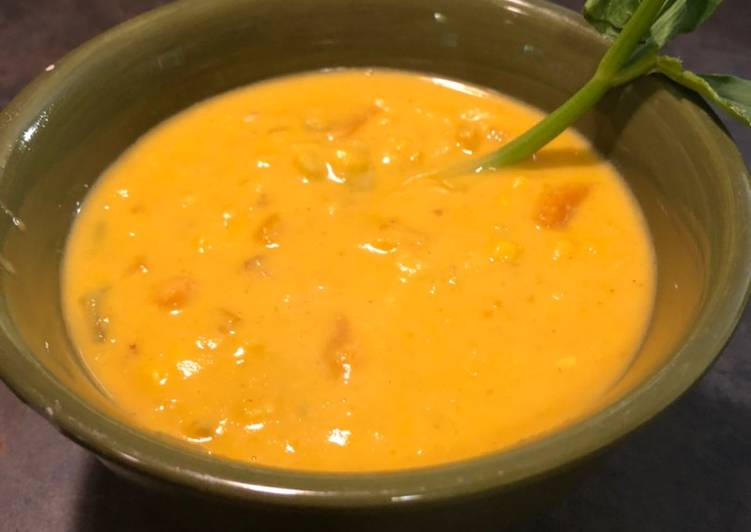 Melt the butter in a dutch oven over medium-high heat. Stir in remaining creamed corn, reserved boiled sweet potatoes, and whole kernel corn. Remove from heat; season with salt and pepper. You can cook Spicy sweet potato corn chowder using 14 ingredients and 6 steps. Here is how you achieve that.
Ingredients of Spicy sweet potato corn chowder
It's 1 tbsp of avocado oil.
You need 1/2 c of diced celery.
You need 1 1/2 c of chopped red bell pepper.
It's 1 of small sweet onion.
You need 2 cloves of minced garlic.
It's 4 c of frozen (or fresh) corn.
Prepare 2-3 of hot peppers finely chopped (I use ghost peppers, but jalapeños will do nicely).
Prepare 1/4 tsp of salt.
Prepare 1/8 tsp of black pepper.
Prepare 1 tbsp of cumin.
It's 2 c of low- sodium vegetable (or chicken) broth.
It's 2 c of peeled and cubed sweet potato.
You need 1 1/2 tsp of cornstarch.
It's 1 1/2 c of half and half (divided).
Sweet Potato Chowder "My husband came up with this spicy soup that's a snap to make yet tastes wonderful," says Kathy Whitford of Oscoda, Michigan. Creamy bowls of it are warm and winning on a cool night. In a stockpot or Dutch oven over medium heat, melt the butter. Stir in the celery, onion, and shallot.
Spicy sweet potato corn chowder instructions
In a large stockpot, heat 1 tablespoon olive oil over medium-low heat. Add celery, bell pepper, onion, garlic, corn, chipotle and jalapeño; sauté for about 10 minutes, stirring often..
Stir in salt, pepper, cumin and broth, stirring well. Increase heat to medium and bring to a low boil. Once boiling, reduce heat and add sweet potatoes. Simmer over low for 8–10 minutes or until potatoes are tender..
Pour half of the soup in a blender or food processor; purée. Combine puréed soup with the remaining soup and stir well. Gently reheat..
In a small bowl, make a slurry with the cornstarch and ¼ cup of the half-and-half..
Add to soup and stir well. Stir in the remaining 1¼ cups half-and-half. Stir over medium heat until the soup becomes slightly thickened..
Remove from heat and serve. Enjoy!.
In small bowl, stir together flour and water with whisk. Stir flour mixture into potato mixture with whisk. Stir in corn and whipping cream. Using potato masher, partially mash potatoes until chowder is slightly thickened. Top individual servings with bacon and.