Sweet Potato & Tofu Stew.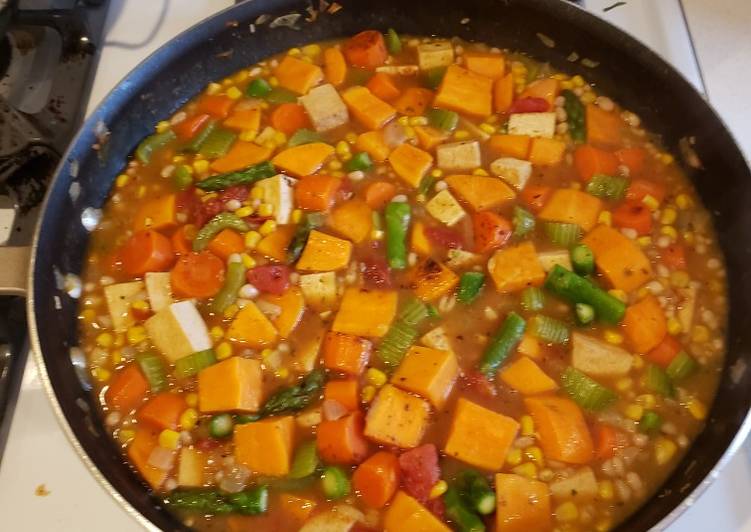 You can have Sweet Potato & Tofu Stew using 21 ingredients and 6 steps. Here is how you cook it.
Ingredients of Sweet Potato & Tofu Stew
It's 180 g of Onion (Sweet).
You need 300 g of Carrots.
Prepare 150 g of Celery.
Prepare 150 g of Asparagus.
Prepare 1 Clove of Garlic.
It's 563 g of Sweet Potatoes (2 Wh).
It's 121 g of Tomatos.
You need 215 g of Corn.
Prepare 267 g of Small White Beans.
Prepare 283 g of Tofu.
You need 298 g of Butternut Squash Soup.
You need 2 tbsp of Canola Oil.
You need 8 oz of Chicken Stock.
It's of Spices.
It's of Clove.
Prepare of Smoked Paprika.
You need of All spice.
Prepare of Salt.
Prepare of Pepper.
You need of Tarragon.
You need of Cayenne Pepper.
Sweet Potato & Tofu Stew step by step
Chop All Veggies, around 1 – 2 inch.
Saute Onions, Carrots, and Celery, once mixed broken down add Garlic..
Remove from Pot/Pan, Put in Tofu and brown all 4 sides of each piece.
Once Tofu is Browned, add in chicken stock, soup, and the rest of the ingredients and mix well..
Add desired spices, I prefer Clove, Paprika (Smoked), Pepper, Salt, Tarragon, and Cayenne Pepper, Mix well..
Bring the burner to as low as possible and cook for 40 min – 2 hours depending on the sweet potatoes being soft..